Halkidiki : excellent choice for a relaxing holiday
Halkidiki is a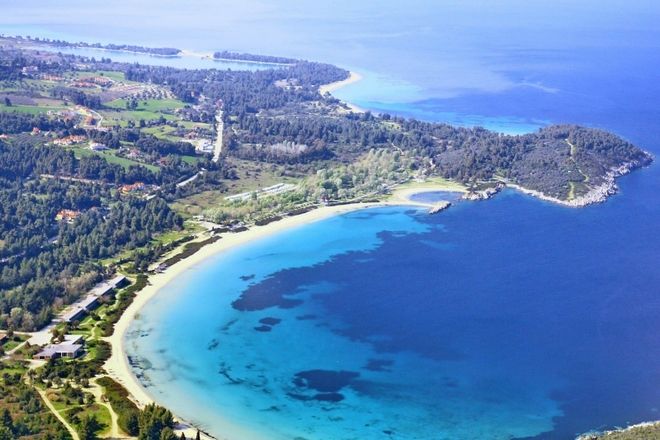 The beach in Chrousso (Koursaros)region with over 500 km of beautiful coastline, along the three peninsulas of Athos, Sithonia and Kassandra. With over 300 days of sunshine throughout the year and 41 E.U. blue flag awards for the clean waters of its beaches - more than any other Greek region - it's obviously an excellent choice for a relaxing holiday. You will be astounded by the unique monasteries of Mount Athos (the Holly Mountain) and the vast extends of Halkidiki's forests. You can also enrich your stay here by visiting the beauties of the inland Macedonia. For those of you who prefer the nightlife, here you 'll find some fine clubs, casinos and other distractions
Halkidiki can be described as this: Kassandra has the nightlife, Sithonia is the closest think to heaven and Athos has the monasteries.
This westernmost prong, Kassandra, being the closest to Thessaloniki, is the most popular and populated of the three peninsula. Its plains are golden with cultivated fields; its rolling hills blessed with lush vegetation and sneer pine forests. Its inland villagers are farmers, who pursue their livelihood in the age-old manner and who welcome the stranger as a friend
Being closest to Thessaloniki, Kassandra is the most popular and populated of the three peninsula. is more built-up (but with great beaches too), while the more subdued Sithonia has campgrounds, hidden coves and clear waters. Both are popular with Greek and foreign holidaymakers. Much of the easternmost peninsula belongs to the Mt Athos monastic community. Active for well over 1000 years, it's accessible by boat from Ouranoupolis or Polychrono and open to male pilgrims (only with advance reservations).
Taking the road from Thessaloniki to Kassandra and after entering the prefecture of Halkidiki, the first important resort you come to, is Nea Moudania (70km from Thessaloniki). Hydrofoils sail from here to the islands Skiathos, Skopelos and Alonissos, but only in summer, twice a week. The second resort, Nea Potidea (76km), is famous for its canal that once separated Kassandra from mainland Halkidiki. Nowdays a bridge takes you to the lively part of the resort with its youthful beach bars and watersports club. It has a laid-back feel, which attracts Greek families and a fairly young crowed. Following the road to the center of Kassandra you reach into a small but very attractive fishing village of Nea Fokea that offers the holiday traveler a warm welcome without being over-touristy! Nea Fokea is also known for its Byzantine towers and the miniature underground church of St. Paul. A turning to the right takes you to the other side (west) of the peninsula, at Sani an extensive beach and a vacation resort with its medieval tower of Stavronikita world famous for the Sani Festival. Continuing south, the next east coast resort is Afitos (91km) with its traditional houses and a sandy beach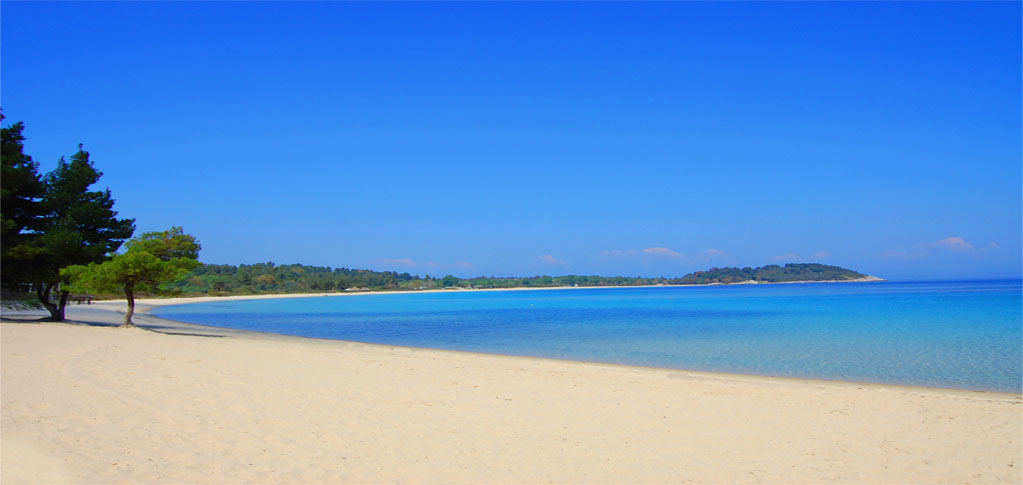 Golden Beach, between Pefkochori and Paliouri
Kallithea has fleshed-out discos and bars, and a long, crowded beach. It is a large and busy holiday spot. Here you can rent bikes and mopeds on the main street, or windsurfs on the beach. A few kilometres further east, you can find Kryopigi and Polyhrono both are a quieter, family-oriented budget beach destination, popular with travellers from former Yugoslav states. If you take the mountain – just for 800 m dirt and then paved - road to Kassadrino – a genuine Greek mountain village full of taverns that offer the traveller the best grilled meat delicasies in the peninsula – you will come across lake Mavrobara.
The pocket-sized Lake Mavrobara is the only lake on the Kassandra Peninsula. It's a hillside haven for 2 endangered turtle species – bring a few slices of bread and the turtles might come right up to you. It's an easy 3-kilometre hike from town, or you can rent mountain bikes and take a separate cycling path. Along both tracks you pass through dense pine forestry and olive groves with 400-year-old trees.After Polychrono you reach the busy hamlet of Hanioti with a large square full of taverns, cafes, bars, shops and large super markets.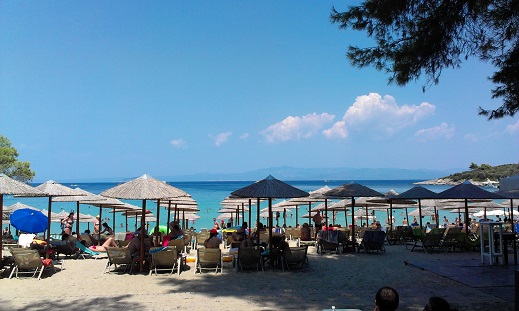 Koursaros beach bar.
There you can either turn right cross the mountain of Kassandra – maybe if you are lucky and the sky is clear you will treat your self with a stunning view of Mountain Olympus and the mythical Pelion - and head to the picturesque village of Nea Skioni with its marina where you can rent a sailing yacht! Or you can head straight ahead for Pefkochori where our villas are situated just before you enter the village. Pefkochori is the largest village in the summer months. There you can find a long pebbled beach with crystal clear waters with some beach bars just 600-700m from the villas. The beach bars offer to the holiday maker the opportunity to do some water sports or just lie in a sunbed to catch some sun tan with a cold mohito!
The centre of the village is at 20 minute walk from the villas using a well protected path. We strongly recommend not to take your car if you go out because parking is very difficult in July and August especially at night. In the centre you can find virtually anything from a fun park to an open air cinema and from restaurants to pizza places! The paved Quai of Pefkochori is ideal for a night stroll with a lot of cafes and bars just in front of the sea. There you can also find motor boats for rent or day cruises to Mount Athos.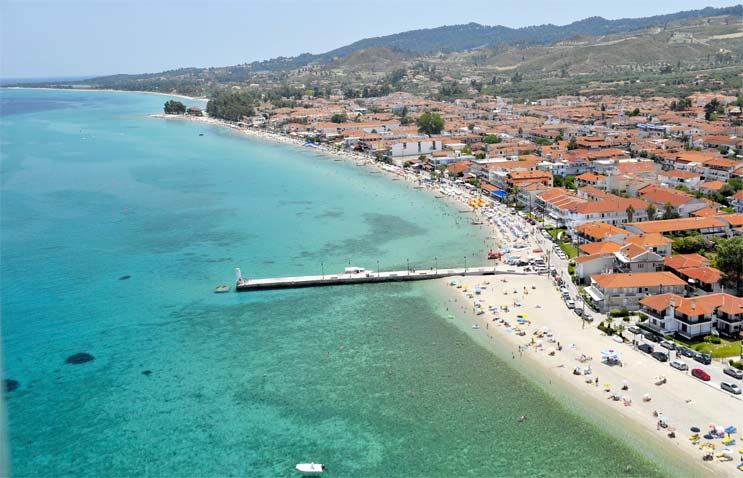 Pefkochori
7 Km after the village of Pefkochori is Paliouri. However just between the two settlements lie the most beautiful and tropical beaches of Kassandra! Glarokavos, Golden Beach, Paragka , Frogs , Koursaros are beach bars along that road that their signs can lead you to beaches ready to rival the Caribean! We strongly recommend to visit them!! We do so ourselves for years! We also recommend to watch the sunset from the easy going jazzy bar of Porto Valitsa, which is situated on your right as you take the road to Koursaros beach bar.
The village of Paliouri is a genuine Greek Village with a graphic plaza with two good taverns that offer quality food. And if the weather is not fine then we think that it would be great for you to visit the Spa at Agia Paraskevi. The small beach at the Loutra Ag Paraskevi is ideal for a quiet holiday. A little further upthrough the rocks, bubbling sulfur springs and operates the modern SPA of Kassandra.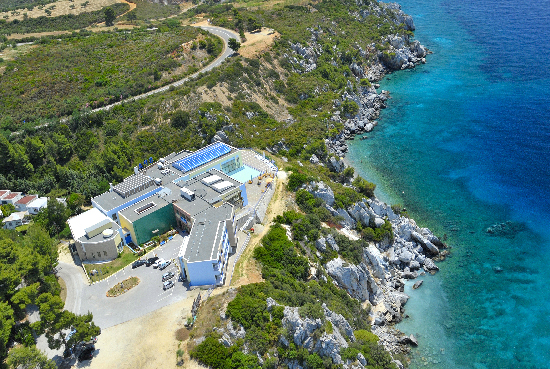 An aerial view of the Spa of agia Paraskevi